Elías León Siminiani – Workshops at Carleton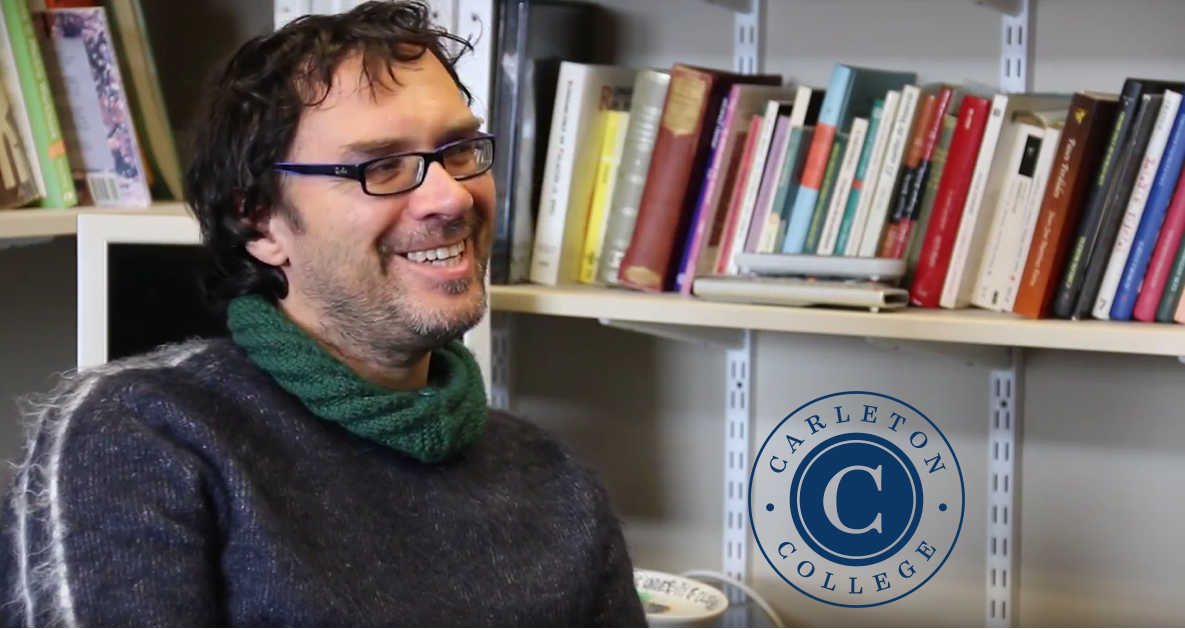 Elías León Siminiani – Workshops @ Carleton
Elías León Siminiani (Santander, Cantabria, 1971), estudió Filología Hispánica y dirección de cine en la Universidad de Columbia, Nueva York. Apasionado de las posibilidades del audiovisual, ha investigado distintos formatos y géneros. En su trabajo de ficción para cine destaca "Dos más," Mejor Drama en los EMMY 2002 para estudiantes, Mejor Director Latino 2002 DGA Students Awards USA y Premio del Público Versión Española; Archipiélago, Premios del Jurado, Mejor Guión, Premio del Público (Columbia University 2003) y finalista para el Latino Filmmakers Showcase 04 de Sundance Channel; Ludoterapia, Mejor Corto en Europa Cinema 2007. En no ficción destaca la serie de microdocumentales Conceptos Clave del Mundo Moderno cuyas tres primeras entregas ("La Oficina," "El permiso" y "Digital") se han alzado con más de 50 galardones internacionales, y su faceta como explorador de formatos híbridos con piezas como "Zoom" (nominada a Mejor Película Notodofolmfest 05) o el díptico "Límites" para el proyecto colectivo Miradas al límite 08 (Artium – NEFF). En su trabajo para televisión también ha alternado formatos desde la dirección en series como Córtate (Canal Cuatro), Cambio de Clase (DisneyChannel – TVE1) o El Síndrome de Ulises (Antena 3) a la realización de piezas de formato libre para el espacio Cuatrosfera de Canal Cuatro.
---
Elías León Siminiani (Santander, Cantabria, 1971) studied Spanish Philology and filmmaking at Columbia University in New York. Intrigued by the possibilities of playing with audiovisual formats, he has created film pieces that respond to a variety of different formats and genres. Notable among his fictional works are: Dos más (Best Drama Emmy in 2002 for students, Best Director Latino Students DGA Awards 2002 Audience Award USA and Spanish version), Archipelago (Jury Awards, Best Screenplay, Audience Award (Columbia University 2003) and finalist for the Latino Filmmakers Showcase Sundance Channel 04), and Ludoterapia (Best Short Film in Europe 2007). Notable non-fiction works include: the micro-documentary series Key Concepts of the Modern World (whose first three installments The Office, The Permit and Digital have won more than 50 international awards), Zoom (nominated Best Picture Notodofolmfest 05), and Limits 1st Person (made for the collective project, Miradas al Límite 08 on Artium – NEFF). In addition to film, he has worked on television programs, as well. Some work includes: directing series such as Córtate (Channel Four), Cambio de Clase (Disneychannel – BBC1) and The Ulysses Syndrome (Antena 3), and creating more "free-form" pieces for the Channel 4's Cuatrosfera.
Source: http://www.hamacaonline.net/autor.php?id=235
El Taller
Transcripción del video aquí – Video Transcription here
Para el Taller Día a Día, haz clic aquí
Descripción General del Taller
Elías León Siminiani fue invitado a Carleton el invierno de 2017 para dirigir un taller con la clase de Palmar Álvarez-Blanco, "The Contemporary Spanish Fictional Essay". Los estudiantes se prepararon para el taller viendo la serie de micro-documentales producidos por Siminiani: "Conceptos Claves del Mundo Moderno". Además, los estudiantes también vieron el largometraje de Siminiani: "Mapa". El taller se dividió en tres sesiones y la proyección de "Mapa". La mayor parte del taller consistió en presentaciones hechas por Siminiani seguidas de discusiones con la clase. El último día, los estudiantes aplicaron la teoría desplegada por Siminiani a través de un ejercicio con el que crearon y presentaron su propio concepto clave del mundo moderno en grupos pequeños.
¿Cuál fue el propósito del taller?
El propósito del taller fue, principalmente, explorar el film ensayo y el diario fílmico. También Siminiani presentó sobre su proceso creativo, cómo él incorpora las maneras diferentes de ver el mundo en su trabajo, y la relación entre el texto y la imagen. Además, Siminiani habló sobre el efecto del punto de vista personal en su proceso creativo, dentro del contexto del film-ensayo. Él comentó sobre la manera en que el estilo de este género cultiva la libre expresión de voluntad. Él también le hablo a los estudiantes sobre el concepto de los discursos metafilmicos: una estrategia fílmica que él utiliza dentro de sus propias obras para ilustrar el valor de no solamente la palabra sino del silencio, la reflexión, y la autocrítica. Sobre todo, Siminiani les enseñó a los estudiantes la importancia de jugar con los elementos cinematográficos, como la música, la cámara, y la voz, para crear proyectos personales y impactantes.
---
The Workshop
For the workshop day by day, click here
Overall Description of the Workshop
Elías León Siminiani was invited to Carleton in the winter of 2017 to direct a workshop with Palmar Álvarez-Blanco's class, «The Contemporary Spanish Fictional Essay». The students prepared for the workshop by viewing the series of micro-documentaries produced by Siminiani: «Key Concepts of the Modern World». In addition to this, the students also saw Siminiani's feature film «Mapa». The workshop was divided into three sessions and the «Mapa» projection. Most of the workshop consisted of presentations made by Siminiani followed by discussions with the class. On the last day, students applied the theory taught by Siminiani through an exercise with which they created and presented their own key concept of the modern world in small groups.
What is the goal of the workshop?
The purpose of the workshop was mainly to explore the film essay and the film diary. Siminiani also presented about his creative process, how he incorporates different ways of viewing the world into his work, and the relationship between text and image. In addition, Siminiani talked about the effect of the personal point of view in his creative process, within the context of the film-essay. He commented on the way in which the style of this genre cultivates free expression of the will. He also talked to students about the concept of metafilmic discourses: a filmic strategy that he uses within his own works to illustrate the value of not only the word but of silence, reflection, and self-criticism. Above all, Siminiani taught students the importance of playing with the cinematographic elements, such as music, camera, and voice, to create personal and striking projects.